Client Testimonials
Be Quick Horseshoeing is happy to share real testimonials from our clients. If you would like to share a testimonial please fill out our Be Quick Testimonial Form. Thanks for sharing your experience with Be Quick Horseshoeing.
---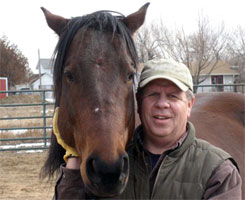 William (Bill) Pelkey, Loveland, CO
"Pat and his crew do a great job trimming my two horses. Pat and Jeremy bring their gentle horsemanship skills to bear with every horse, and their patience is evident as they go about their work. I have always been pleased with how Pat takes great care making sure my horses are comfortable during the trim, as well as after. I recommend Pat and Be Quick to everybody who asks who they should get farrier services for their horse from."
---
Dr. Don and Marcia Piermattei
We are Dr Don Piermattei, retired Board Certified veterinary surgeon, and Marcia Piermattei, vet tech. Our horses are Conchita, 25 yr old Standardbred mare, Red Twist, 16 yr old Standardbred gelding, Lucy 10 yr old Haflinger mare, and Cloud, 17 yr old spotted saddle horse/ TWH gelding. We ride Cloud and Lucy as trail horses. the other two are retired.
We were referred to Pat Hall when our farrier, Rett Emerson, Denny Emerson's son returned to work with is father in Vermont. Red Twist, the Standarbred gelding was born with a varus deformity on his left foreleg that required very specialized shoeing to keep him working sound and comfortable. Pat was considered by Rett to be the best choice for working on such a specialized case. Pat has been our farrier for more than ten years and Red Twist has remained remarkably sound, to the amazement of Wayne McIlwraithe at CSU and other equine orthopods who predicted he would be lame and arthritic before the age of 4 yrs.
We appreciate the professionalism common to all the staff at Be Quick, and especially the dedication Pat has shown to us and our horses. He has never stopped trying to improve Red's unique condition and find new ways to keep him comfortable. In addition, our Haflinger mare Lucy foundered badly three years ago. Pat and Dr Allen Landes at Equine Medical Services worked tirelessly as partners to keep her free of pain through the most critical period and make the decisions that brought back back a horse with severe rotation of both front coffin bones to working soundness.
Yes, we refer Be Quick to all our friends with horses. We feel it is the premier farriery service in Colorado. Pat and all the staff are true professionals, pleasant to work with, on time and very well prepared to provide outstanding care. They have set a very high standard that we have found nowhere else and will remain satisfied clients as long as we have horses.
---
Cheryl L., Fort Collins, Colorado
I have been a client of Be Quick Horseshoeing for over 14 years. For the duration of our relationship, the level of service provided to me and my horses has been exemplary. The company and its people have brought a greater meanint to the words "customer service and satisfaction."
In the past, while sharing my life with horses, I've had to deal with a variety of equine health concerns, several involving the feet and soundness. These ranged from Cushings Disease to Degenerative Joint Disease (DJD), mild club feet and most recently a problematic issue with my young horse dusty. Dusty procured an undiagnosed illness that resulted in a severe case of laminitis... Pat Hall was open to trying various options, fitting Dusty with pads and shoes and workign closely with the veterinarians on the case. I give much credit to Pat and his crew with the fact that Dusty is a sound, viable horse today.
I also have four other horses who I feel are happy and healthy because of the excellent farrier care they receive. As horse owners, we certainly realize that proper hoof care is one of the primary factors in riding and performance. Along with that responsibility, comes the need for open communication between farriers, veterinarians and the horse owner. Be Quick Horseshoeing has made terrific strides in building the relationships necessary for breaking down old-fashioned barriers and working together with everyone involved in individual cases.
I also appreciate the fact that I'm treated as a real person with a deep love for my horses, and not as just another "client." Be Quick Horseshoeing has brought dependability, dignity and respect to the term "horseshoer." I credit Pat Hall's company with developign a shoeing program and business acument that instills confidence in ability while offering a wide range of horse handling skills. Its comforting to know that I'm going to be heard by a sympathetic and compassionate voice. There's always someone on the other end of the line and nobody is too busy to listen.
In today's hectic world, whith pride in workmanship and individual attention becoming more difficult to obtain, it's commendable to see a business that's growing and thriving by providing a level of service that the farrier profession has lacked in past years. I have every confidence that Be Quick Horseshoeing will be a viable business for a long time, growing and changing with the needs of horses and their owners everywhere.
I would recommend Be Quick Horseshoeing to anybody who's interested in high-quality, affordable and dependable hoof care for theri horses.
---
Sheri C., Loveland, Colorado
I wanted to tell you how impresseve your way of doing business is.
For years I have heard about how farriers should treat clients and how clients should treat farriers in the worthy equine magazines. Until I had the first appointment with Be Quick Horseshoeing, I was convinced that the magazines had made these farriers up for "feel good" reading.
From the first phone call to Be Quick Horseshoeing I knew I had at last found a "professional farrier."
Andrew and Jeremy were everything I've been trying to find in a farrier. While Andrew delt wiht April, Jeremy chatted with me about many different subjects concerning my horse, horses in general, services offered and his Be Quick way of thinking about horses - their care and needs.
The big thing was when I made the guys aware that I didn't ride April, didn't even want to, and never purchased her for that purpose, I didn't get "the look" that says "she just wants a pet". I love them both for the respect they showed me, after knowing that. I realize that April is not a dog or cat, or a second child. I lvoe her and realize she is not going to return my love. She will however return my respect for her.
The telephone calls a week before and a day before are so appreciated!

Be Quick Horseshoeing, Inc. farrier service area includes Fort Collins, Loveland, Windsor, Berthoud, Longmont and surrounding Northern Colorado towns.