All About Be Quick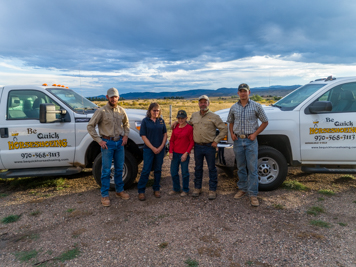 Be Quick Horseshoeing is a multi-farrier business, with three Farriers on staff, an Account Manager and Facility Manager available to serve you. Our phones are answered promptly, and calls are returned quickly. We provide itemized billing for your convenience. You will receive a phone call one week prior to your appointment as well as the day before. If our guys are running even 20 minutes behind, we'll make sure to let you know.
Pat Hall, owner and manager of Be Quick Horseshoeing Inc., is an American Farriers Association Certified Journeyman Farrier. Pat is available for field appointments on a limited basis, and is more readily available at our haul in facility. In the past he has served as NCQHA President and Show Manager. In addition to providing support for all employees of Be Quick Horseshoeing, he also works with multiple horses at our training facility, Be Line Equestrian Center. He is available for group and private lessons, and remains actively involved in horsemanship clinics designed to help you help your horse.
Valerie Hall, has over 35 years of equine experience that includes barrel racing, gymkhana events, basic cattle working and trail riding. She is patient and empathetic to the needs of both horse and rider. If you would like to learn something new for you and your horse to experience of would like to increase technical skills Val can help.
Carol Morley is the voice on phone representing Be Quick. She is a Colorado native growing up around livestock. She states only that she has been involved with horses "all of my life". Carol started working for Be Quick September 2005. We are happy to have her with us. You will no doubt be hearing from her as she keeps all of our many activity's scheduled. You can reach her at 970-568-3113.

Be Quick Horseshoeing, Inc. farrier service area includes Fort Collins, Loveland, Windsor, Berthoud, Longmont and surrounding Northern Colorado towns.